In our last article we have summarized the key findings about the rise of self-checkouts in the retail space and the shrinkage they entail. Now we will have a deep dive into how Artificial Intelligence can be used to avoid shrinkage at the self-checkout tills and especially into Checklens' solution Checkscan.
Artificial Intelligence (AI) at the forefront of change
Shoppers' desire for a fast, smooth and efficient checkout process as well as the growing daily tasks of store associates mean that retailers must implement new tech solutions to keep up with the competition. One example that has a direct impact on customer satisfaction is speeding up the checkout process. With this alone, retailers can offer their customers a significantly better shopping experience. A survey by the EHI Retail Institute shows that Artificial Intelligence (AI) is the most important future trend according to all respondents. That's why AI-powered applications in retail will continue to grow. According to the survey, 63 percent of retailers rank Artificial Intelligence as the technology of the future. A significant majority (77 percent of retailers) are already using or planning to use AI-powered applications.1
Loss prevention through Artificial Intelligence at self-checkouts
Surveillance cameras and object recognition are key components in loss prevention using Artificial Intelligence. Advanced visual analytics can help retailers gain valuable insights and take countermeasures that positively impact store profitability.
The AI-powered Checkscan solution is able to recognize any product directly at the self-checkout, thanks to its unique technology of object recognition. Products can be recognized on the scanning table, in the shopping cart, in the shopping basket or in the shopper's hand. A specially developed algorithm checks whether all items have been scanned at the self-checkout. If shoppers forget or avoid scanning an item, the self-checkout screen friendly reminds them to correct the basket.
Checkscan can be connected to cameras in any store worldwide and provides simple and secure interfaces for transaction data. The solution is GDPR compliant. A specially developed algorithm ensures that shoppers and store associates remain anonymous throughout the entire store visit.
How Checkscan works:
A checkout camera recognizes each product
The AI matches barcode scans with visual recognitions
The AI notifies the shopper if any product was not scanned
The shopper corrects basket and finishes their transaction
With Checkscan, shoppers can correct the shopping cart on their own. Store associates will receive a notification if the shopper needs help or if a transaction can not be completed due to an non corrected scan-error. Further, store associates receive all necessary information, e.g., via a handheld device or directly on the checkout display, to assess the situation and assist shoppers. Checkscan works with mobile devices, handhelds, radio sets as well as other staff communication tools.
Insights into loss prevention
The Checklens insights platform helps retailers to identify, understand and reduce their losses in each store. Retailers, for example, receive information about scan corrections, the items with the highest loss potential and much more through the Checklens portal.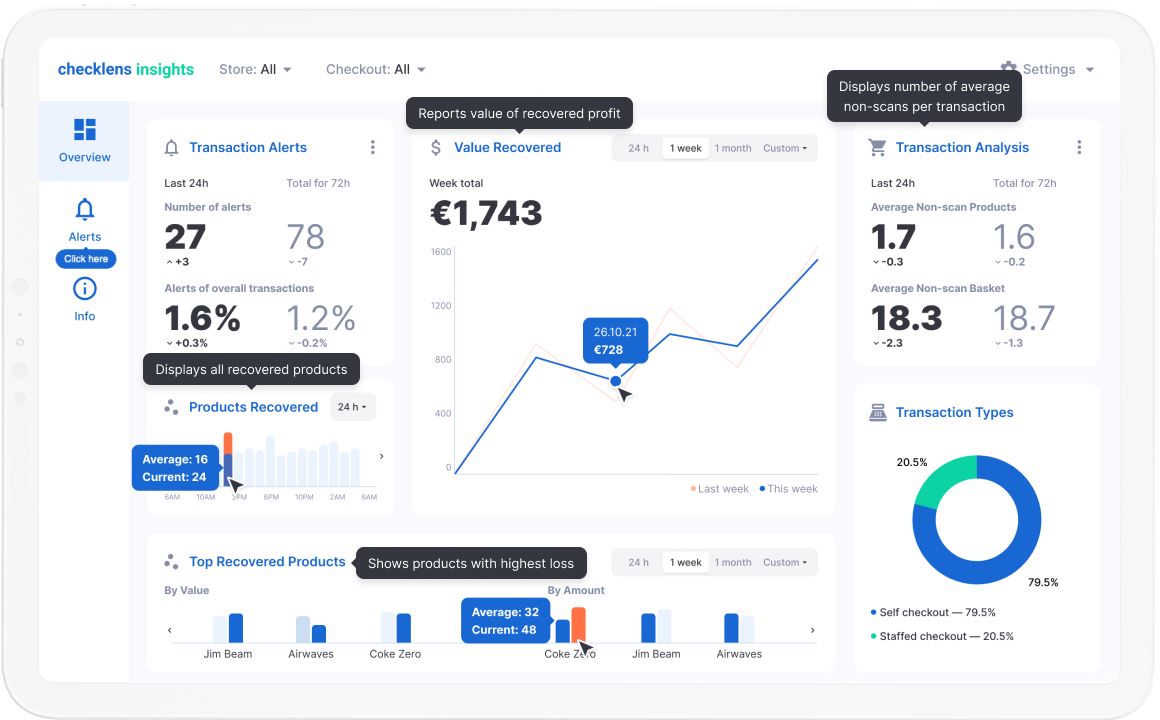 Checkscan and Checkfresh
In combination with Checkfresh, the AI at the self-checkout can even recognize items without barcodes, such as fruits and vegetables. This avoids incorrect entries and confusion that lead to inventory errors. Checkfresh also works when using transparent bags and nets.
Loss prevention at traditional checkouts
Store associates are required to check customers' shopping carts before they start with the scanning process. This check is neglected in some situations.3 Checklens provides an AI-powered solution that sends an alert to the cashier's monitor when shoppers forget to place a product from the cart onto the conveyor belt. So there is only an alarm when necessary and random bag checks belong to the past. Store associates are equipped with "enriched information" in order to keep the authority inside critical and stressful interactions.
Benefits for shoppers, store associates and retailers
Easy and fast checkout.
No disturbing surveillance cameras in the checkout area.
Relieve supervisory staff from visual and random bag checks.
Assistance system for stressed and overwhelmed shoppers during the scanning process.
More time for store associates to focus on real support cases and value-creating customer interactions.
Increased profitability through corrected scanning errors at the SCO.
Higher inventory accuracy and shelf availability.
Higher SCO throughput. No security scale. No random checks.
Even higher throughput thanks to Checkfresh.
Less shrinkage caused due to wrong fresh produce selection or scan errors.
Retailers are increasingly introducing self-scanning and self-checkout solutions in their stores.1 2 At the same time, self-checkouts lead to increased losses and shrinkage rates of several million euros per year.3 In this consequence, retailers are deploying advanced tech solutions to enable their customers a seamless and frictionless shopping experience with consistent inventory accuracy.
If you have more questions about Checkscan, please contact us.
Sources:
1 EHI Retail Institute. (2021). Technologie Trends im Handel. Der Weg in die digitale Zukunft aus sicht der CIOs. Cologne. ISBN: 978-3-87257-545-6
2 EHI Retail Institute. (2022). POS-Systeme 2022. Evolution des Checkouts. Cologne. ISBN: 978-3-87257-562-3
3 Center of Retail Research. (2019). Retail Crime Costs in the UK. Retrieved from https://www.retailresearch.org/crime-comparisons.html