IGD SupplyChainAnalysis published a report that gives insights of how they see food and consumer goods stores to evolve over the next decade. How people will shop and how retailers will adopt technology and new store formats, will dramatically change until 2030. One of the most important trends for stores is called "digitally enabled." This refers to the fact that digital solutions will be seamlessly integrated into stationary stores throughout.¹
This trend is noticeable in the increasing use of technology up to self-checkouts (SCOs), autonomous stores and scan & go applications. Have a look at one of our previous blog posts about Smart Technologies in Retail Stores.
In a survey conducted by EHI Retail Institute in 2022, respondents answered that they will further expand in self-service options in the future. Specifically, about 60 percent of retailers plan to offer self-scanning via customers' mobile devices in the near future.² For nearly 40 percent of grocers, self-checkouts and self-scanning are the highest investment priority.³
According to another market survey conducted by EHI in 2021, the number of retail stores with stationary self-checkout systems in Germany has almost doubled within two years. The survey revealed that around 7.240 stationary self-checkout systems are used in a total of 1.687 stores, a good half of them in the food retail sector alone.4
With new trends come new challenges:
Stressed shoppers who are overwhelmed and frustrated by the scanning process can inadvertently cause loss of products.
Sometimes dishonest shoppers who do not scan every product.
As described by Prof. Adrian Beck, "design fatigue" also leads to loss of merchandise. This term describes the moment when shoppers become annoyed with automated service and simply walk out of the store. This can happen – in the worst case scenario – with unpaid goods.
The problem with shrinkage in retail stores
Approximately every 200th shopping cart, full of products, passes the checkout without being paid for. With inventory differences amounting up to € 2.16 bn a year compared to around 83 million German inhabitants, statistically, every German citizen consumes unpaid goods at a value of € 26,- every year.5 Putting it into other numbers: German retailers could open their doors for 2.5 days a year without charging their customers for the products they take.
The Centre for Retail Research has collected shrinkage data from retailers in the US, the UK and six other European countries to show shrinkage is an international problem:6
Table 1
Shrinkage costs in US, UK and Europe 2019 (converted into EUR)6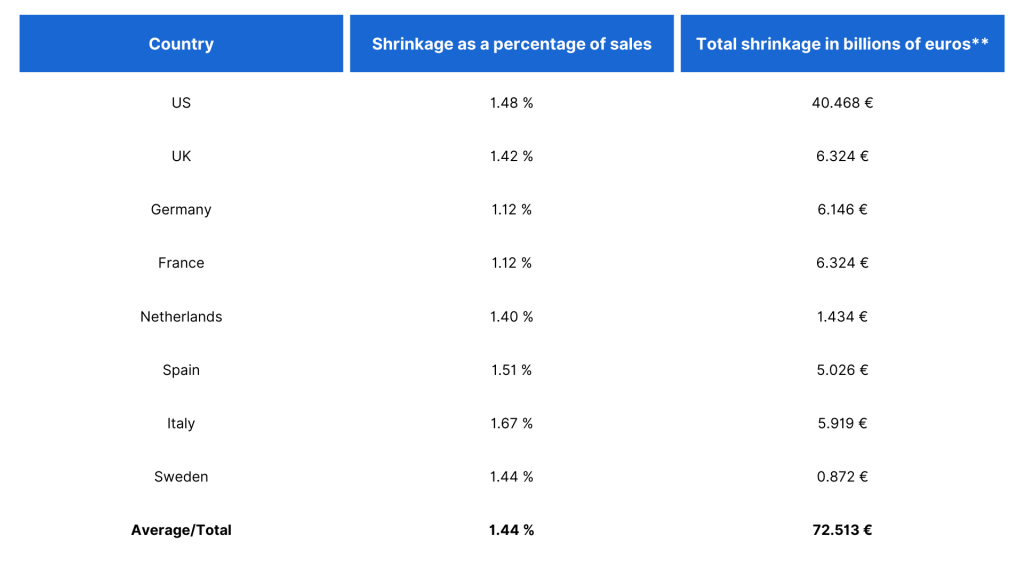 An ECR research paper showed that stores where 55-60 percent of transactions went through a fixed self-checkout, retailers can expect their shrinkage losses to be 31 percent (!) higher.7 An analysis by Checklens found that one or more scan errors occur in at least one in fifty transactions (2 percent) at a self-checkout. At self-checkouts with an average of 300 transactions per day, this amounts to approximately 6 scan errors per day. If this is multiplied by 6 self-service checkouts in an average-sized store and 25 opening days, the result is around 900 scan errors per month or more than 10.000 errors per year. Expressed in monetary terms, this means a loss of between 20.000 and 60.000 euros per store per year, depending on the average sales value of the products listed and not scanned.
There are three categories identified, that might occur at the self-checkouts and that lead to higher loss rates:
Non-Scanning or Scan Avoidance occurs when a shopper passes items around the scan area without scanning it or leaving items in a basket or trolley.
Mis-Scanning occurs when shoppers weigh products at the produce scale, intentionally select lower priced products on the display, and stick a "manipulated price tag" on the product.
Walk-aways occur when the shopper scans all items correctly but does not finalize the payment process or do not scan the items at all and leaves the store with the products unpaid.5
Self-checkout loss might happen by accident or intentionally by shoppers. Therefore, solutions are required in order to guarantee a frictionless checkout experience for both shopper and store associates, and a solution for retailers to prevent assets from loss. This is where the use of Artificial Intelligence offers the greatest potential for reducing shrinkage. The AI solution Checkscan is one of them. Check it out or contact Checklens directly.
Sources:
1 Store of the future 2030. (2021, June). Retail Analysis from IGD. Retrieved from https://retailanalysis.igd.com/trends/presentation-viewer/t/store-of-the-future-2030/i/10877?gclid=CjwKCAjw2bmLBhBREiwAZ6ugowy75jRUsuZybgQrPgxi13VuHnwYs9LviR5rBHj1z_Qsu0nGDOBo9xoCbvgQAvD_BwE
2 EHI Retail Institute. (2022). POS-Systeme 2022. Evolution des Checkouts. Cologne. ISBN: 978-3-87257-562-3
3 EHI Retail Institute. (2021). Technologie Trends im Handel. Der Weg in die digitale Zukunft aus sicht der CIOs. Cologne. ISBN: 978-3-87257-545-6
4 EHI Retail Institute. (2021). Self-Checkout: Markterhebung 2021.
Retrieved from https://www.self-checkout-initiative.de/markterhebung-2021/
5 EHI Retail Institute. (2021). Inventurdifferenzen 2021. Daten, Fakten, Hintergründe aus der empirischen Forschung. Cologne. ISBN: 978-3-87257-551-7
5 Center of Retail Research. (2019). Retail Crime Costs in the UK. Retrieved from https://www.retailresearch.org/crime-comparisons.html
7 An ECR Research Paper. (2018). Self-checkout in Retail: Measuring the Loss. University of Leicester.
* £ 5.5bn equals € 6.5bn (exchange rate by 31.5.2022: 1,1758 EUR)
** in € (exchange rate by 31.5.2022: 0,9277 EUR)